The FURRY LOGIC PRODUCTIONS bookshop!
Furry Logic Productions is proud to present its line of furry novels, each published in a perfect-bound paperback form on medium-weight bright-white paper. No more stapled-together, barely-readable photocopied digests or comb-bound magazines whose plastic combs keep wanting to interlock together every time you try to take them down from the shelf; these professionally-printed books, with their full-color glossy covers and square-backed perfect-bound spines, will look right at home next to the rest of your book collection! All titles contain multiple interior illustrations, often from a variety of artists, to go along with the text – some even feature one or more illustrations in full color!
---
[Mature Audiences] – contains material which probably isn't suitable for kids, or for people whose idea of anthropomorphic fiction is strictly Happy Fluffy Cartoon-Land.

Equivalent to an R-rated movie; i.e. the stories and/or artwork may contain a variable mix of action-movie violence, nudity, profanity, innuendo, etc. – but no explicit sex or gruesome violence actually occurs "on screen", as it were.
[Adult Audiences] – contains material which is definitely and absolutely not suitable for minors. Equivalent to an NC-17 or X-rated movie; potential readers are strongly cautioned that the text and/or artwork may be explicitly sexual, graphically violent, may deal with taboo subjects, or otherwise contain material which some readers may find offensive or disturbing. Anyone ordering these titles may be required to submit proof of age.
---
---
The "Allan Connell Mysteries" series: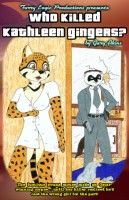 "Who Killed Kathleen Gingers?" – by Gary Akins
She was Hollywood's hottest property; a star of the silver screen, very beautiful, and very naked. The cameras loved her, even when the camera belonged to the County Sheriff's department, and it was a death scene that would've made any actress' career... but when the reviews came in, it was her stand-in who got the accolades, and the killer realized he'd have to shoot the scene again! It doesn't take long for unorthodox police detective Allan Connell to find himself with plenty of suspects auditioning for the role of the murderer, and Connell has to wrap the production fast before the killer's next casting call lands the famous actress a starring role – at her own funeral!
The first book in the "Allan Connell" series, this story was originally serialized in the fanzine Furryphile in a slightly shorter, rougher form; now, it's back in print, in a perfect-bound 5.5x8.5 trade-paperback format chock full of artwork from the pens of Bernard Doove, Jack Furlong, Zephery Hughes, Michael Peña, Jeff Pierce, Shannon Stuart, and Kurt Wilcken! [Mature Audiences]

---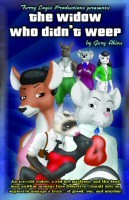 "The Widow Who Didn't Weep" – by Gary Akins
Hoping to enjoy his night off, Detective Allan Connell sits down next to a misty-eyed bunny in a quiet bar for a drink or two... and the next thing he knows, a local gambling tycoon's lawyer falls dead at his feet! The cause of death: a rare and powerful poison. The lawyer's widow greets the news of her husband's death with bored indifference. His mistress greets Connell with an invitation for some squeaky-clean fun. And then, the killer strikes again, and suddenly unorthodox police detective Allan Connell is up against an explosive mix of hot-shot lawyers, hot-headed mobsters, and a hot-blooded redhead in a case where everyone has a motive, everyone's a suspect, everyone has something to hide – and almost everyone wants him dead!
The second book in the "Allan Connell" series, now back in print in a perfect-bound 5.5x8.5 trade-paperback format with artwork by Bernard Doove, Michael Peña, Jeff Pierce, and an all-new cover by Tanamin Wingate! [Mature Audiences]

---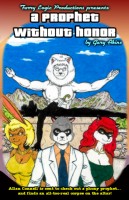 "A Prophet Without Honor" – by Gary Akins
Preaching sun worship by day – and practicing fertility rituals at night! – the loincloth-wearing Prophet was the latest fad among Calico Rock's high-society jet-set. Unorthodox police detective Allan Connell goes up to the Prophet's mountain resort to check out the scene, only to find that one of the Prophet's followers has left a special offering on the altar: a voluptuous blonde doe, gloriously nude... and very dead! The corpse turns out to be that of Jessica Quarters, a "rich, idle, and occasionally vicious" local socialite with few friends and at least one deadly enemy – and soon, Connell's collection plate is overflowing with a bizarre cast of sun-worshiping suspects who lead Connell on a merry chase, as he races against the clock to unravel a tangled web of high-society intrigue, jealousy, and rivalry before the Prophet's next prophecy comes to pass... and before both the murderer and the nearly half a million dollars in the cult's safe disappear into the sunset!
The third and latest book in the author's "Allan Connell" series. Perfect-bound 5.5x8.5 trade-paperback format with artwork by Bernard Doove, Zephery Hughes, Michael Peña, Jeff Pierce, Tiffany Ross, and Ted Vollmer. [Mature Audiences]
---
---
One-shots and non-series books


---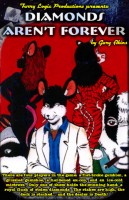 "Diamonds Aren't Forever" – by Gary Akins
A fortune in diamonds has been missing for eight years, and only the thief who stole them knows where they're hidden. With fifty thousand in unpaid markers hanging over his head, and a gambling pit boss who'd be all too happy to collect it out of his pelt one inch at a time, compulsive professional gambler James Stafford finds himself forced to pose as the diamond thief on the eve of the thief's release from prison, as part of a double- and triple-crossing scheme by the thief's former partners-in-crime to cash in on the hot rocks before he can retrieve them. But when Stafford tries to step into another fur's life, he puts his own on the line as he gets tangled up in a deadly conspiracy woven by the lady he can't fool, the cop he can't shake... and the corpse he can't hide!
Perfect-bound 5.5x8.5 trade-paperback format, with artwork by Gary Akins, Bernard Doove, Zephery Hughes, Michael Peña, and Jeff Pierce. [Mature Audiences]
---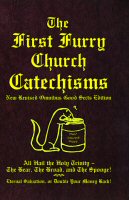 The First Furry Church Catechisms:
The New Revised Omnibus Good Sects Edition
The beginnings of the running gag which came to be known as the First Furry Church are, alas, lost to the mists of time; for verily, in the Beginning, followers of the Bear, the Broad, and the Spooge didst be few in number, and their words of wisdom limited to those rare Proclamations seen written within the virtual world known as FurNet. In the fullness of time, however, the Word didst spread among devotees of the Furry Way, and the Church didst attract new followers, and eventually there didst come a need for the Compilation of these scattered bits of wisdom into a guide for the faithful, that their knowledge and legends be preserved unto the next generation. The Church's scribes hath labored long to bring the Word (which, verily, doth be "bird") to thee; study these pages and learn them well, traveler of the Furry Path, that thou may walk in the pawprints of those who have gone before thee into the Rapture of true Furriness! Be comforted by the sacred words of The Gnu's Testament, meditate upon the lessons within The Book of Marmot, heed well the prophecies of the newly-recovered and translated Furpocalypse of St. Quoll, raise thy voice in praise of the Trinity with The First Furry Church Hymnal... and forgettest not to tip Sister Vicky most generously on thy way out, lest the Ferrets of Penitance smite thee, and not in a Good way.
Perfect-bound 5.5x8.5 trade-paperback format with artwork by Gary Akins, "The AppaRat", Simon Leo Barber, Brian O'Connell, Mike Sherman, and Doug Winger. [Mature Audiences]
---